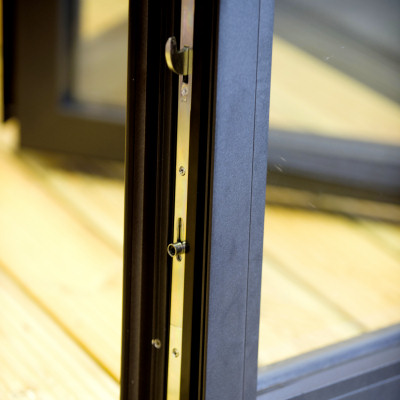 Traffic doors allow for outside access and as a result need to be highly secure. Traffic Doors are fitted with the latest high security multipoint locking as standard.
The locking mechanism is operated by a Lever-lever handle and has a total of six locking points. Two deep throw hook locks, lock into the outerframe, so even if the intermediate shoot bolts are not engaged the doors cannot be pulled open. There is also a standard latch, dead bolt, and two fitter friendly adjustable roller cams at the top and bottom of the doors that pull the doors in tight and provide excellent weathering.
Double traffic doors have a master and a slave door. The master door has the locking described above and locks into keeps situated on the slave door. While the slave door has additional shoot bolt locking top and bottom, which are operated by a lockable Pendulum Handle. Please note traffic doors with Pendulum handles, operate the same shootbolt lock.