Launching November 2013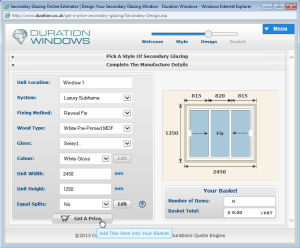 Our original Secondary Glazing Online Estimator was launched in 2004, soon after hiring a new programmer into our I.T. &amp Marketing Department. For the last few months we have been working hard to design a brand new Secondary Glazing Estimator.
We have had some comments from customers over the years that the estimator is not particularly easy to use and asks too many technical questions. We also felt that it needed updating, as it looked quite dated. As a result we set out to create a new estimator, based on the appearance and quote engine used by our New Bifolding Door estimator that went live in November of last year.
We wanted to simplify the estimator we already had, to make it quicker and easier to use, while making it more engaging and intuitive to use.
The result of months of work is a fantastic, dynamic and stylish user interface with a functional and sophisticated back end application. The new estimator provides an online discount and is now the fastest and cheapest way to quote our Secondary Glazing.
It has been live in its beta testing form for the last few weeks but it is now ready to take over from the old estimator and be officially launched as our New Secondary Glazing online estimator.