Duration Trim Press Release
Glass Age - December 2004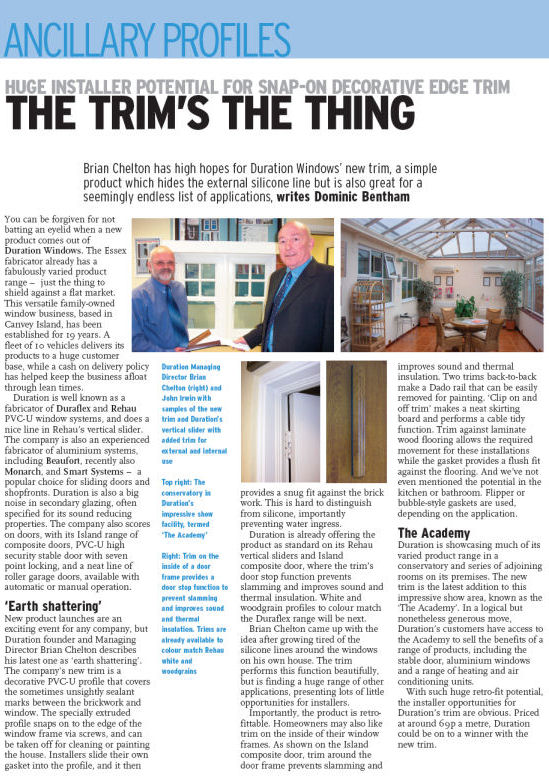 The Installer - December 2004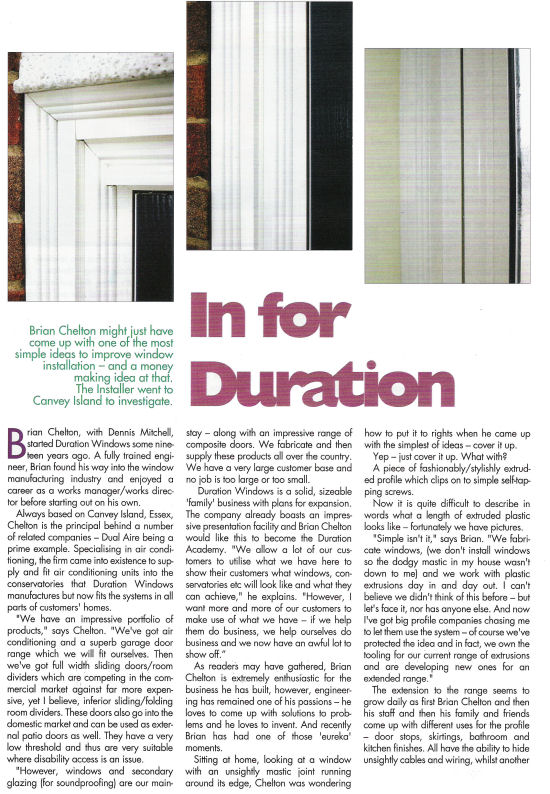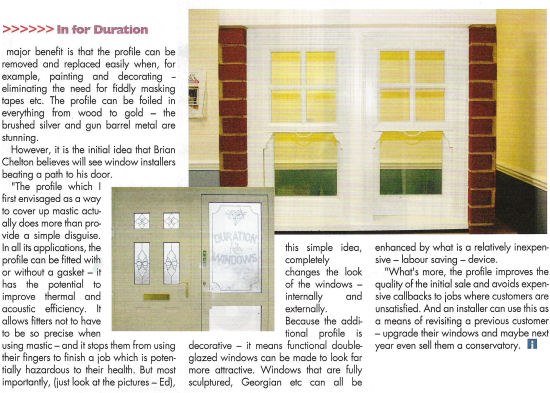 Southend Echo - Tuesday December 7 2004
The system was unveiled and demonstrated for the first time this week, following confirmation of its patent application.
Brian Chelton himself says simply: "I think its impact is earth shattering. Yet the idea's so obvious and the market so huge that I can't believe we didn't think of this before. But then, let's face it, nor has anyone else."
The Trim was conceived as an add-on moulding to windows, but rapidly developed as a substitute for conventional kitchen and bathroom edging. In its larger format it lends itself equally to dados and skirting boards.
Two radical innovations set Universal Trim apart. It can be applied in a few minutes, and just as easily removed and replaced. And an expanding gasket inside the plastic profile swells to cover up any cracks between floor and wall.
The inventor explained: "You can simply lift the trim off to redecorate or clean underneath. This means that one of the first big markets is likely to be hospitals, in their fight against infection."
Brian Chelton has a background as a manufacturer and engineer. His company, Duration, has made and supplied windows to the trade for 19 years.
He said: "We make windows but we don't install them, and I've often noticed how poorly applied the mastic trim is at the edge of windows. Universal Trim began as an add-on to improve the aesthetic quality of the window and cover up dodgy mastic. It can be applied simply and easily for about a fiver, at any time - years later, even. "From there, it didn't take long to realise that it had an application inside the house as well."
It has taken Brian a number of years to develop his idea to full patent and mass manufacture level. This week the finished product was on show to industry professionals for the first time, evoking an response bordering on the awestruck.
Unlike other inventors, Brian has the advantage of manufacturing the product himself. Universal Trim was developed at the Duration Windows site. Brian holds patents for the machine tools as well as the product he sells.
Yet although surveying the prospect of a fortune, he said: "I have enjoyed a good life and a good living from my companies, and I didn't set out with the aim of making vatloads of money. What happens is I get very enthusiastic about an idea and want to follow it through to the end."
The Universal Trim will be on show at the Duration Windows display centre in Charfleets from December 27 onward, prior to its national unveiling at the 2005 Ideal Home Exhibition in March.
"Copyright Echo Newspaper Group Ltd"
Patent No. RSJ08423EM