Ste'alth™ Privacy Glass Boat Install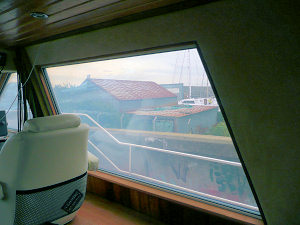 Here we have a couple of pictures of the inside of the boat. The windows are switched using a keyfob remote control and change state in under one second.
As you can see the glass is especially good at handling the awkward shape of this window. Not only is the window a parallelogram shape, but it is also angled. Both the shape of the window and the angled installation would be hard to accomodate with traditional blinds.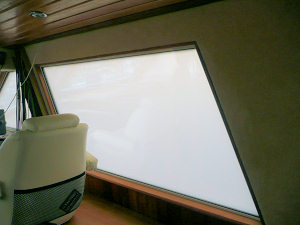 Possible Applications
Folding doors and windows
Partitions between house and conservatory / extension
Office partitions
Boat windows - both external and internal partitioning
Conservatory roofs - avoiding messy blinds and dust issues
Any hard to reach areas - avoiding pole and cord operated blinds or curtains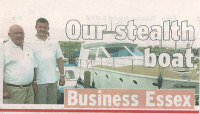 The glass and boat have been featured in a newspaper article.
Read the article here (2.5Mb PDF).
Important Notice
Please note that switchable privacy glass never goes completely clear. If compared back to back with 'ordinary' clear glass this glass will always look slightly milky. We advise that you should not place switchable and ordinary glass next to each other.