Changes to Building Regulations - June 2022
The Government has announced changes to the three building regulations to the UK deliver net zero. This includes a requirement for new homes to produce around 30% les CO2 than current standard and a 27% reduction of emissions from other new buildings.
... Duration Windows are prepared to meet these new regulations to ensure you can comply with the upcoming changes...
Implementation Period
Changes come into effect from 15th June 2022
For new builds the date applicable is from the date of building application
This does not apply to work subject to a building notice, full plans application or initial notice submitted before the 15th June 2022 (provided the work for each building is started before June 15th 2023)
Approved Document L LIMITING VALUES
Document L has two parts, Part 1 applies to dwellings and Part 2 applies to commercial. The table below sets out the updated limiting U-values for thermal performances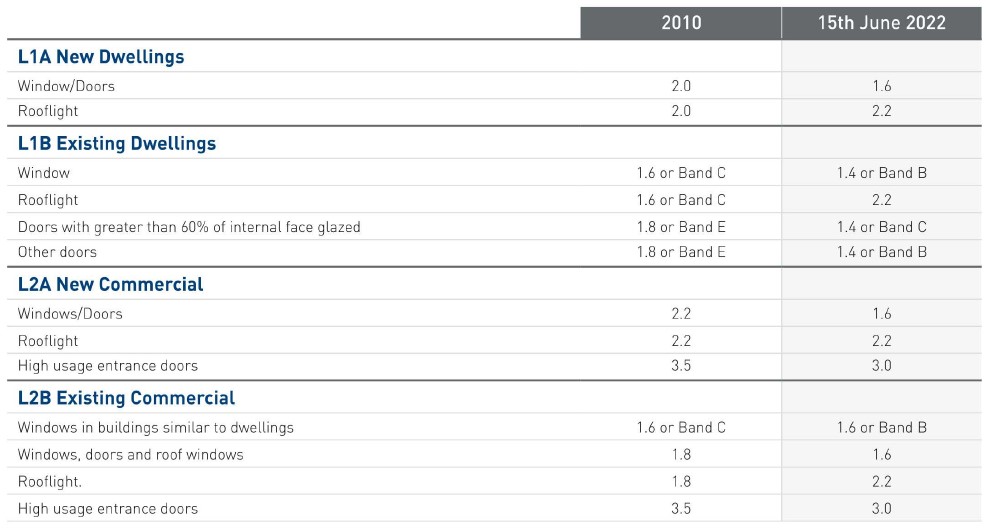 Approved Document L NOTIONAL VALUES
Additonally to the limiting values, the building regulations states that:
where a building is erected it shall not exceed the target emission rate for the particular building
After notional values have established the Target Emissions Rate there is the ability when calculating the actual building performance to offset the "Limiting Values" (maxium possible U values for each element - as long as the overall building meets or exceeds the notional Target Emission Rate.