Aluminium Roof Installation Instruction Service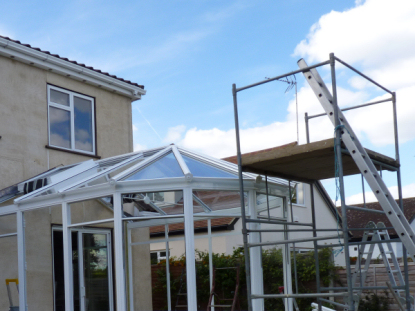 Our aluminium roof kits are supplied in knock down kit form, although smaller roofs up to 1.6m x 3m can usually be supplied made up. By delivering our roofs in knock down kit form we can ensure that your roof arrives in perfect condition. It also allows for ease of handling, transportation and access to site, however you will need to put your roof together. If you have never installed an ABD roof kite, are unfamiliar with installing aluminium roofs or just unsure and concerned about assembling and fitting it - then we can help.
Although all of our roofs are supplied with an installation guide, we also offer an onsite instruction service. We will come out to site and meet with your fitter, in order to assist and walk them through the entire process of installing your ABD roof kit. This tuition service is available across mainland UK, and costs start from just £250.
So why not take advantage of our aluminium roof kit onsite instruction service. We will help start you off and you can avoid any stress or complications with your first ABD roof kit - ask our sales team for more information today.
Please also see our Roof Lantern Fitting Stages page and our downloads page.