Colour Options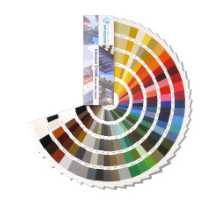 Our products are all painted with a hardwearing polyester powdercoat paint, the paint is built to last and baked onto the aluminium. We only use approved Polyester Powder Coat Specialists, and can therefore offer a ten year guarantee. This finish is high quality and low maintenance, only requiring an occasional sponge down.
Our Premium Aluminium Windows are available in a standard white, graphite black, anthracite grey, dove grey, ivory cream or van dyke brown. You can also choose to have your windows silver anodised or in a dual colour paint finish. Dual colour is where you can have different colours inside and out, for example dark grey outside and white inside. If none these conventional colours meet your requirements then you can have your windows painted in any of over 200 single or dual RAL colour paint finishes.
Conventional Paint Finishes
This comprehensive range of conventional colours are available at a reduced cost and a reduced lead time, when compared to special RAL colours. Please quote the colour code when ordering.
RAL Colour Finishes
Our Premium Aluminium Windows are available in any single or dual special RAL colour paint finish. There are over two hundred different RAL colours to choose from. Click the link below to see a selection of the available RAL colours.

See Our RAL Colour Chart
Please note that these on-screen representations of painted colours are for use as a guideline only, intended to provide an indication of colour. Duration Windows cannot be held responsible for any discrepancies between on-screen and actual painted colours.