Secondary Glazing Guidance
Where Is It Used?
Busy areas where traffic noise is a nuisance - even when double glazing is already fitted ( i.e. Hotels situated just off main roads).
Ideal for use in Listed Buildings, Heritage / Conservation areas and period properties.
As a cost effective alternative to replacing your existing single glazed windows.
Leasehold / rented properties, where changing the existing windows may be uneconomical.
Any property where you are unable to modify the existing external windows.
Any window that needs noise reduction and / or draught reduction.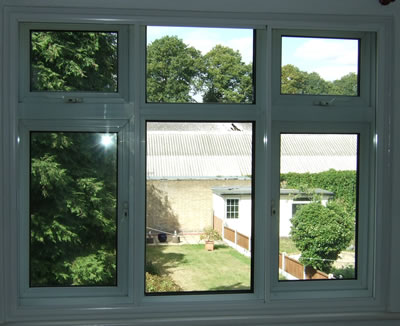 What Does It Look Like?
Secondary glazing involves adding an extra slim-line window in addition to your existing windows. Usually they have white frames, although we can paint them in any of over 200 RAL colours. They are made from durable aluminium so they will not rot and require very little maintenance. Aluminium is naturally strong so the frames can be made very slim - making our secondary glazing discreet and unobtrusive.
Units are often pre-drilled and are easy to install. They are simply fixed to the existing windows or fixed into the window reveal. Our secondary glazing can be curved to form arched secondary glazing units.
Our Secondary Glazing Systems
We have the largest range of secondary glazing in Europe, with many different styles (including horizontal sliders and vertical sliders) and four different systems. These four systems consist of our Economy Odd Leg, Slimline Equal Leg, Luxury Subframe and Heavy Duty systems. Our economy odd leg system is simply face fixed through an aluminium flange to the existing window. Screw caps can be used to cover the fixing screws (not provided). Our Luxury Subframe system is fixed through a wooden subframe, providing a clean, even and aesthetically pleasing finish. See the animation on the right to show how well our Secondary Glazing blends in. Trims are provided for hiding the subframe and fixing screws. Our Slimline Equal Leg system is slimmer than our subframe system due to it not having the additional width of the wooden subframe. Our Heavy Duty system is the most robust system and can take single or double glazed sealed units.
The Optimum Air Gap - Simple Yet Effective
Having a 100mm - 200mm air gap between the secondary glazing and the existing windows (glass to glass) will provide an optimum gap for sound and heat performance. The air gap provides an additional barrier, preventing heat and sound from passing through. We have a deeper SF3 and SF4 subframe's specifically for the purpose of 'reveal' fixing the secondary glazing to give this gap. If only a smaller gap can be used then secondary glazing is still very effective as the performance difference between say a 70mm gap and 100mm gap is only small.
Choosing Glass Thickness in Secondary
When installing secondary glazing for sound proofing we recommend that you use a different thickness of glass in your secondary glazing than that of the glass in your existing windows. Different thicknesses of glass will help to block different wave lengths of sound, this effect is called the resonation factor. For maximum sound reduction we offer 'Stadip' acoustic glass which is 6.8mm thick and is designed as a sound insulating glass. Our 6.4mm 'laminated' glass also offers a significant noise benefit over other glass options, but at a reduced cost compared to the 'Stadip' acoustic glass.
Coatings on Glass for Better Heat Insulation
Adding well fitted secondary glazing with ordinary 4mm glass will give significant benefits in energy saving and reducing heating bills, however, by specifying 'K' glass which has a special heat reflecting coating, gives an extra improvement over un-coated glass and helps to keep the heat in the room.
Technical Downloads

(20 page specification guide, detailing all available secondary glazing.)


1.8 Mb

(8 page installation and measuring guide for our secondary glazing.)


0.4 Mb
Technical Downloads

(Guide to where you must comply with glass safety regulations.)


0.1 Mb
Technical Drawings - Downloads
Technical drawings can be provided in DWG or DXF format, please contact us.
Downloads Not Working?
If you are having problems downloading documents from our website please be patient as it may take a few minutes.

Make sure you have the latest version of Adobe Reader - you can download Adobe Reader here for free. Alternatively we can send you the file by email - contact us.