What Are Cookies?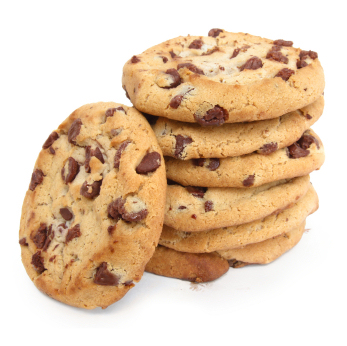 In terms of the internet, cookies are not tasty, soft and crumbly chocolate chip filled biscuits, cookies are files that store miniscule amounts of data, which are then stored to a user's computer. Cookies do not and cannot carry viruses, and cannot install malware on the host computer.
Cookies, also known as HTTP cookies, web cookies, or browser cookies are designed to hold a modest amount of data specific to a particular client and a specific website, and can be accessed either by the website's web server or the clients computer. This allows the server to deliver a page tailored to a particular user, or the page itself can contain some script which is aware of the data in the cookie and so is able to carry information from one page or visit to the website (or related site) to the next.
Cookies are referred to as session or persistent cookies, depending on how long they last / are used:
Session cookies - only last for your online session and disappear from your computer or device when you close your browser.
Persistent cookies - stay on your computer or device after the browser has been closed and last for the period of time specified in the cookie. These persistent cookies are activated each time you visit the site where the cookie was generated.
Cookies are a convenient way to carry information from one session on a website to another, or between sessions on related website's, without having to burden a web server machine with massive amounts of data storage. This data could be something as simple as your username, so that you do not have to type it in each time you visit a website. Storing the data on the server without using cookies would also be problematic because it would be difficult to recognise and retrieve a particular user's information without implementing user login's on each visit to the website. Browsing the website would be slower and less user friendly.
Without cookies certain aspects of a website would not work for example shopping baskets on website's such as Amazon and eBay.
First party cookies
First party cookies are set by the website you are visiting and they can only be read by that site.
Third party cookies
Third party cookies are set by a different organisation to the owner of the website you are visiting. For example, the website might use a third party analytics company who will set their own cookie to perform this service. The website you are visiting may also contain content embedded from, for example YouTube or Flickr, and these sites may set their own cookies.
More significantly, a website might use a third party advertising network to deliver targeted advertising on their website. These may have the capability to track your browsing across different sites. Although we do not show advertisements on our own website we do use Google Remarketing to show our adverts on the Google Display Network to visitors once they have left our site. You can opt out of this in our Manage Cookies Page. Website's such as Facebook however use advertising cookies to gather information and deliver adverts that are taylor made for each individual user. Click here to find out more about how we use Cookies.
Other Useful Website's
References: http://www.channel4.com/ | http://www.whatarecookies.com/ | http://www.bbc.co.uk | https://developers.google.com/